Support
To ensure the success of your business, it is essential to have a unique and appealing design
Our team begins by thoroughly analyzing your space, taking into consideration not just dimensions, but also factors such as the ideal entrance location and pillar security. We strive to fully understand your requirements in terms of theme, function, style, and elements, to create a playground that maximizes the potential of your space. Our designs feature an optimal mix of play events and activities, ensuring both visibility and safety. We offer a wide range of themes to choose from, along with hundreds of existing designs and a comprehensive list of components and materials. We work closely with you to revise the design until it exceeds your expectations and captivates kids. As playground owners ourselves, we understand the importance of a successful design.
Please tell us the location of your playground
1.May we know the effective clear ceiling height of the location where the playground is proposed to be?
2.Kindly provide us with a CAD file (provided by an architect) of the location, if available. This will help us create a more accurate design for the playground that will consider all the specific details and exact measurements of the area.
3.Are there any beams, poles, or obstructions that will obstruct the installation area of the playground? Previous knowledge of this will help us design the playground configuration that works best for the location.
4.Are there any objects like air conditioning vents, exhaust ducts, hanging lights, etc. that cause restrictions in the ceiling space and could obstruct the installation of the playground structure? If so, kindly share pictures of the obstruction along with the appropriate measurements to assist us with the design.
5.Is there any concealed door or fire exit that we should be mindful of in the playground area? It is important for us to know this information to guarantee that our playground design is safe and also meets all the necessary requirements.
6.Do you happen to know which International Building Code (IBC) has been adopted by the city where the playground will be installed? We can look into this information for you if not known (ONLY APPLIES TO USA CUSTOMERS). There are many policies to be followed in this code, such as keeping the playground 5 feet away from walls.

Kindly capture three photographs from each of the angles highlighted (A/B/C/D)
Further Instructions:
1.When making customer design requests, it is mandatory to attach real photos of the playground site. These pictures aid our designers in understanding the space and crafting a perfect playground design.
2.Note that if you design the flooring of the play area, you must keep a minimum distance of 18'' from the walls.
3.Your playground design will include EVA soft play mats, but only in the playground area, unless otherwise specified. Kindly notify us if you need extra EVA soft play mats in other parts of your site.
4.The standard height for each level of the playground is as follows: 1st Level: 5.9' (1.8m); 2nd Level and Each Above Level: 4.9' (1.5m). If you wish to deviate from these heights, please inform us.
5.If you purchase ball blaster guns or a ball blaster zone, you must reserve space for an air compressor, which you will store in a utility or storage room.
6.If you would like to include your logo as part of your playground design, please submit it to us in Al format.
7.Providing detailed information about your design preferences will save us time on unnecessary revisions.
Installation of Indoor Playground
Our clients enjoy significant cost savings as we strive to simplify the installation process. Our proficient technicians are responsible for installing indoor playgrounds (play structures) bigger than 100m2 and 3m high. These professionals have undergone rigorous training and are proficient in executing installations effectively. It is crucial to ensure that playground installations, regardless of size, are carried out correctly with safety, longevity, and appearance in mind. For smaller indoor play structures, our clients have the option of installing them themselves using our comprehensive 3D installation diagram. We offer clear and concise installation instructions and provide immediate assistance via Skype, phone, Whatsapp, and email should our clients encounter any issues while installing the equipment.
The Layout of steel Frame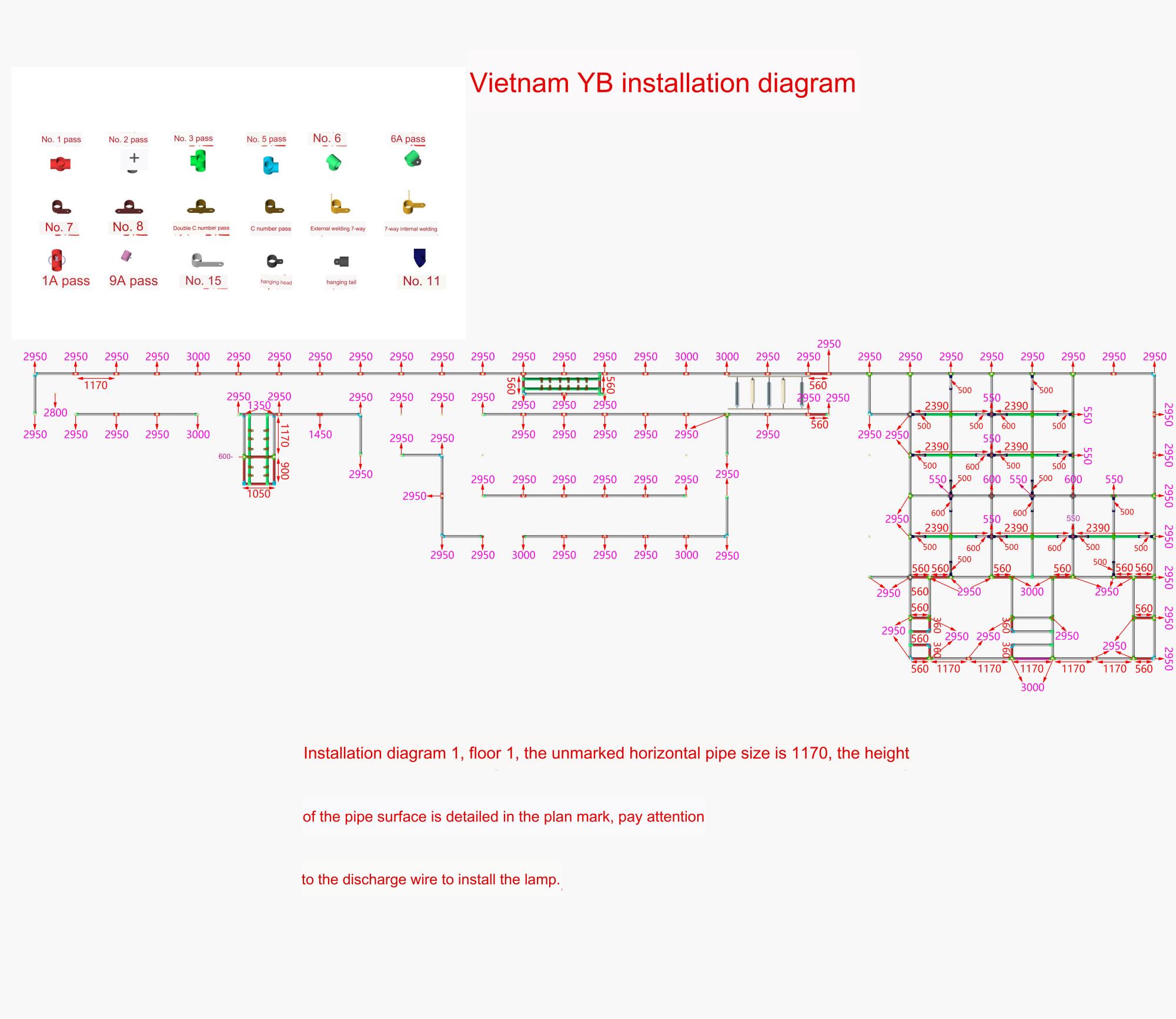 The Steel Frame Stracture Guide
1.For instance, if the playground entails three floors, the first step would involve cleaning the area and placing the EVA mat on the floor. In the case of two floors, the frame can be assembled before lifting it and placing the EVA mat on the floor. If we provide you with a soft pad instead of an EVA mat, it must be placed when installing the first-floor frame. Install the equipment one floor at a time, beginning with the vertical pipe.
2.The installation diagram is marked with letters and numbers. Locate all vertical pipes by number and height. Vertical pipes must not be cut according to the installation diagram, and each vertical pipe must have a metal foot platform under it. All fasteners must be placed on the vertical pipe before assembling the horizontal pipe.
3.Most of the horizontal pipes are of a standard size of 117cm, as a pipe with the same length will work just fine. It's essential to ensure that the fastener for holding the platform is in place on the horizontal pipe before joining it to the vertical pipe.
Message
If you have any suggestions or question for us.Please contact us.